The Number One Team For Builders Waste Removal
We've all been there, you have a load of work that needs doing, after eventually finding the right builders for you and managing to find a time suitable for you both, and after weeks of noise around the house, the work is finally finished. You are ready to sit back and relax, but your house is full of the remnants of the work you've had done, what can you do? Junk Removals are here to provide you with an answer to your cries for help.
We offer the most efficient and best quality builders waste removal service in London
, all at affordable prices. Call us today on
020 3795 7697
for a free quote.

The Best Prices in London

We work in a competitive market, the capital has a lot of options for builders waste removal and we have worked hard to ensure our service stays at the top of the list. We guarantee out position by not only providing the best service in town, but also by providing the best prices that will not be beaten by any other service, and that is our guarantee to you. Our loyal customers keep coming back to us because of the value for money offered, the professional builders clearance service we provide, and our friendly and hard-working staff who have all undergone extensive training.

Top-notch Building Site Clearance
We don't only provide a domestic service, we are also the first port of call for those who need construction waste disposal. After a large job has been completed, we understand that you want the work you have done to look its best immediately, and the way to ensure this is to clear out all the junk that is left over after a construction job is completed. Our swift and efficient service will provide you with the best solution. Whether you are the company that carried out the work, or the person that commissioned it,
we offer a same-day builders clearance service to those who require it.
So within hours of you calling
020 3795 7697
to talk to one of our experts, all of your building site waste will be cleared and all of your worries will be alleviated.

Every Service You Need Is Provided
There's many reasons people keep coming back to Junk Removals, our loyalty to our customers is returned by them. Many of our new customers come via recommendation from those we have helped before.
Here are just some of the perks of our construction waste disposal service that keep our clients coming back to us: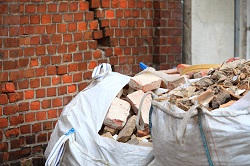 • Swift and affordable service
• Discounts offered for repeat customers
• Work done at your pace, whether same-day, or around your busy schedule
• Highly trained staff who are always ready and willing to help
• Tips and advice offered when needed
• Free consultations offered to all customers, new or old
• Full service provided – from removal, to loading, to transporting
• No obligation required, cancel anytime

Everything You Need on One Number
We know how stressful it can be to call around everybody trying to find quotes and estimates for the builders waste removal service you need. That's why we keep a close eye on our competitors, to make sure we are always providing the best value for money in London. That way you know you don't have to lose hours trying to find the perfect service for you, you simply have to call us now on
020 3795 7697
to receive a free estimate, and relax safe in the knowledge that
you will be receiving the best quality builders waste clearance service that the city has to offer.
You don't have to live with that clutter for another minute longer, call us today.